Welcome to Melqosh Mission International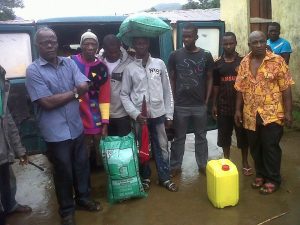 Melqosh Mission International is a Non-Profit Organisation birthed to aid, equip and empower Blood Diamonds victims of the civil war, whose limbs were wickedly amputated by the rebels. The war rebels viciously amputated the limbs of children as young as two months old, the young and old became people with disabilities, not because of ill health, accident or birth defects but because of the wickedness of man.
Our work also includes transforming the lives of their dependants, widows and orphans of deceased amputees. The charity has extended its charitable activities; providing relief to children orphaned by Ebola. Melqosh has been operational since 2008 and is registered in the United States as a charity with a 501c3 status.
In post conflict Sierra Leone, people with disabilities and amputations (attributed to the methodical dismemberment of civilians during one of Africa's bloodiest war, which resulted in thousands of innocents losing hands, arms, legs) are more marginalised. Exclusion from services, community activities and productive opportunities increase the risk for people with disabilities and post conflict amputations. Consequently, they will continue to stay in poverty or fall into extreme poverty if intervention is not implemented, thereby creating a vicious. MMI has championed the cause of the amputees and is one of their key support –providers in Sierra Leone.
Our vision is to implement development strategies for education, health, trade and employment specifically for physically challenged and war afflicted amputees. With access to these services, the beneficiaries will have coveted opportunities that we all deserve and a chance to articulate in productive activities, thereby becoming successful, not only for themselves but for the development of Sierra Leone.
RECENT ACCOMPLISHMENTS
April 2017's Sevenfold Mission
Melqosh executed 5 Medical Missions in Freetown, Newton, Magburaka, Bo and Lungi. We also held a Fun Day for Ebola Orphans and a successful Crusade at Lungi. In addition, we have fully paid the school fees for one child or orphan from every war-amputee household in Freetown, the Capital for 2016/17 Academic year.
Founder
Faith Okrafo-Smart is a best-selling author, a motivational speaker and has a passion to help and impact the lives of the poor and needy in Sierra Leone and abroad. Faith is the Founder of Melqosh Mission International, a Non-profit Organisation, birthed to provide aid to the marginalised and physically challenged, their dependants and carers.
How to be a Colour Purple Partner
Colour Purple Sundays
involve your Church and do a Colour Purple Sunday in one of your Services. It's very simple – Ministries/Churches can partner with our mission, by getting their congregation to wear a Purple to Church and render a mission offering. Email us on info@melqosh.org if you would like us to come to your Church to do a brief presentation of our cause.
Read More
NEWS & UPDATES