Melqosh Mission International
Presents
Melqosh's Ball Challenge,
Commencing on the International Day of Charity 5 th of September and onwards
A campaign raising awareness and funds for Blood Diamond Victims (war amputees, war rape victims, war wounded, widows and orphans) in
Sierra Leone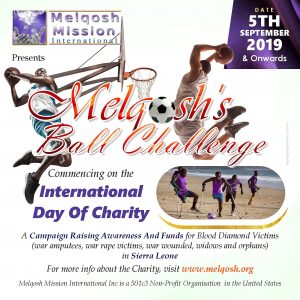 Download Melqosh's Ball Challenge PDF here.
Rules of Engagement 
(A) What to do
1.Do the Ball Challenge
2. Win or Lose, make a donation to Melqosh Mission International
via PayPal Giving Fund, Facebook or Bank Transfer
Ways of Giving –
Cash App – $melqosh
PayPal link – bit.ly/purplefundraiser
FaceBook  – https://www.facebook.com/MelqoshMissionInternational/
 Bank Transfer or Deposit
Bank of America (USA)
Account – Name: Melqosh Mission International 
DDA Account: 446031888907
Routing Number: 052001633
Swift Code: BOFAUS3N
Natwest Bank (UK)
Account Name: Melqosh Mission
Account: 84324279  Sort Code: 601005
3. Post Video on Social Media with hashtag(s) #MelqoshBallChallenge
#EmpoweringBloodDiamondVictims
4.Challenge 10 or more people to do the Challenge
​(B) Types of Challenge
One on One Challenge or Individual Challenge
Either Football, Basketball, Table Tennis, Volleyball, Badminton,
Bowling, Rugby Challenge
Individual Keepie Uppie Challenge, Bucket or any of the Ball games
Or Group Challenges
Dodgeball, Football, Badminton, Basketball, Soccer etc.
All donations are tax-deductible and will facilitate the construction of a Multi-faceted Educational Establishment for
500 war orphans and create a Social Enterprise and execute continuous Medical Missions for Blood Diamond Victims.
Melqosh Mission International Inc is a 501c3 Non-Profit Organisation in the United States
Melqosh Ball Challenge Celebrity Champions
Ellen Thomas – Actress (Film, Television, Theatre)
Rakie Ayola – Actress (Film, Television, Theatre)
Robson Green – Actor & Musician (Film, Television)
Adam Smethurst – Actor (Film, Television)